After serving over 20 years with one of the largest, high-fashion brands in the world, Alessandro Michele has stepped down as Gucci's Creative Director. With passions for the arts instilled in him by his mother's love for cinema and his father's interest in sculptures, Michele began his journey into the fashion world with Italian knitwear brand Les Copains after studying design at Rome's Academy of Costume and Fashion. Then, in the late 1990s, he worked under Karl Lagerfeld and Silvia Venturini Fendi at Fendi as the luxury house's senior accessories designer, overseeing leather goods alongside Frida Giannini. In 2002, he was poached by Gucci's creative director, Tom Ford, and fell in love with the new home that would become like family to him.
Alessandro Michele made impressive strides throughout his tenure at Gucci, delivering results that would eventually change Gucci's approach towards fashion. In 2006, he was promoted to Senior Designer of Leather Goods and later became Associate Creative Director to Frida Giannini in 2011. Momentum continued in 2014 as he was appointed to the Creative Director role of Richard Ginori, the Italian porcelain manufacturer that was acquired by Gucci, but it was in January 2015 when he took on an remarkable challenge as interim Creative Director to reshape Frida Giannini's designs the week before the menswear presentation during the Milan Fashion Week. Two days later, after taking a bow to the audience at the conclusion of the show, Michele is officially announced as Gucci's Creative Director, sparking a radical change in how the world would perceive Gucci.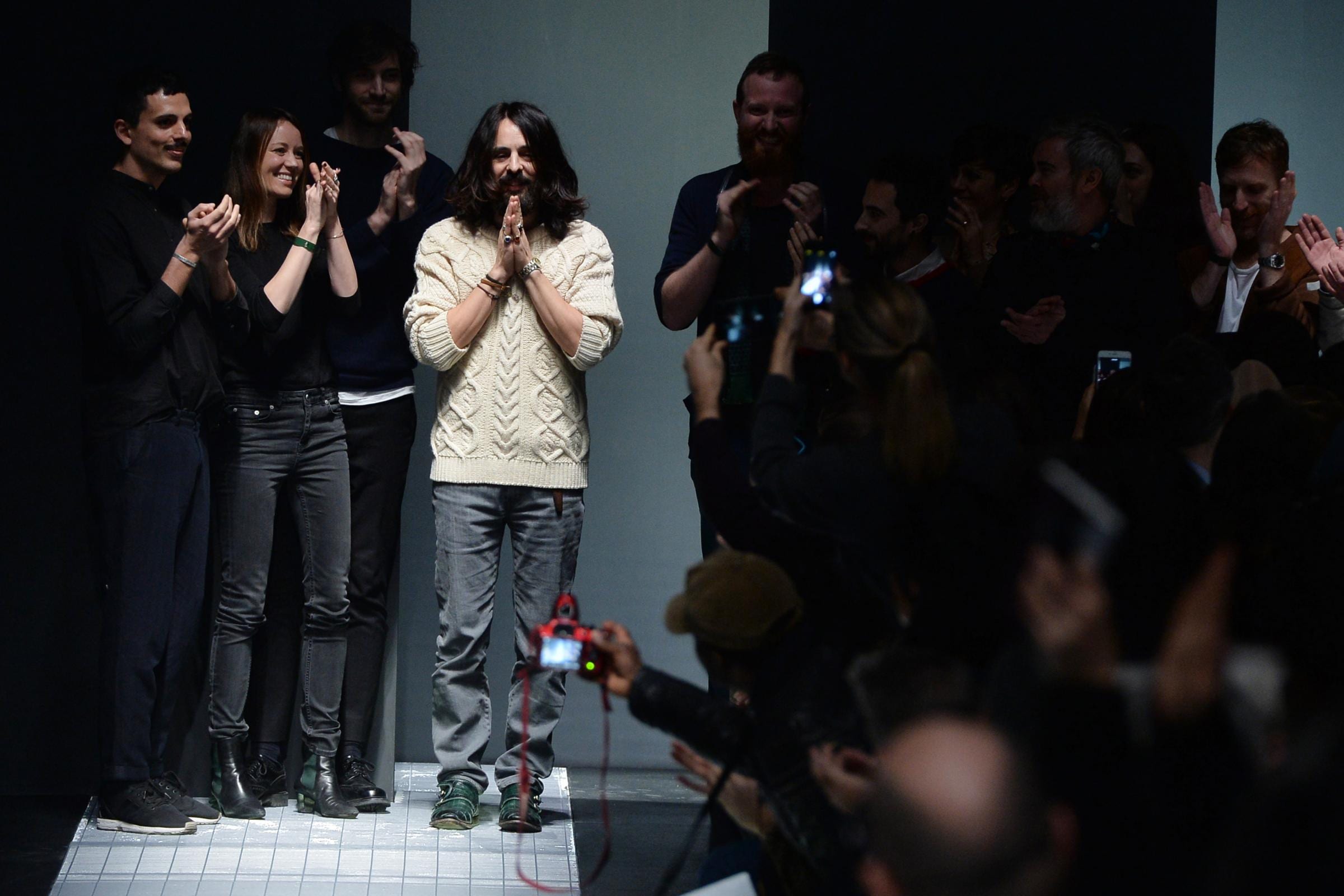 His curiosity and explorations in the fashion world not only resulted in world-renowned accolades, but Alessandro Michele has also been responsible for some of the largest collaborations the fashion industry has ever seen. Of the extensive list, the partnerships produced while at Gucci include street artist "GucciGhost" who reworked the famous GG logo without permission from Gucci; Balenciaga for the "Hacker Project"; Adidas that merged the "emblems of the House" with sport-inspired pieces; and various celebrities, such as Lana Del Rey, Jared Leto, Billie Eilish, and Harry Styles for the HA HA HA collection. With all of his successes, it is no surprises that Michele was twice-awarded "International Fashion Designer Of The Year Award" at the British Council Fashion Awards and listed as Time Magazine's "100 Most Influential People" to say the least.
In looking deeply at Alessandro Michele's interests and awareness of subculture, it is no surprise to see Gucci as an early adopter of Web3 through NFTs. In 2020, the former creative director of the House introduced Gucci's first virtual sneaker collection dubbed "Gucci Virtual 25" where virtual avatars could could sport the wearables in spaces like Roblox and VRChat. This paved the way for new relationships to be established, and SuperPlastic's virtual characters became one of the first to present such vision to a wider audience. This initial partnership evolved into a much more significant one with the SuperGucci drop by SuperPlastic where each of the 500 NFTs would be accompanied by a physical, porcelain counterpart designed by Alesandro Michele. Although this specific drop had its challenges, it did not stop the charge Gucci was taking in Web3, and the artisan craftsman from Italy found himself enjoying a nice cup of tea with a like-minded, artisan craftsman, Wagmi-san, in a place called New Tokyo.
The appearance of Alessandro Michele in Wagmi-san's shop was pinnacle for the 10KTF community, but it also demonstrated the untapped possibilities of intellectual property rights granted by NFT projects. For the first time in our short history of NFTs, token holders of partnered, parent collections could mint a unique derivative of their PFP in the vision of Gucci's Aria or Love Parade collection. At the same, phase of 10KTF showed the power of the team's connections as well as its technological capabilities with the creation of a burnable, ERC-1155 Gucci Grail Mint Pass that was needed in order to redeem the available ERC-721 Gucci Grail NFT once the holder selected the outfit of choice. All of this was executed with minimal-to-no issues on the user experience side, but that isn't what opens Pandora's Box for New Tokyo's most prolific tin-foilers.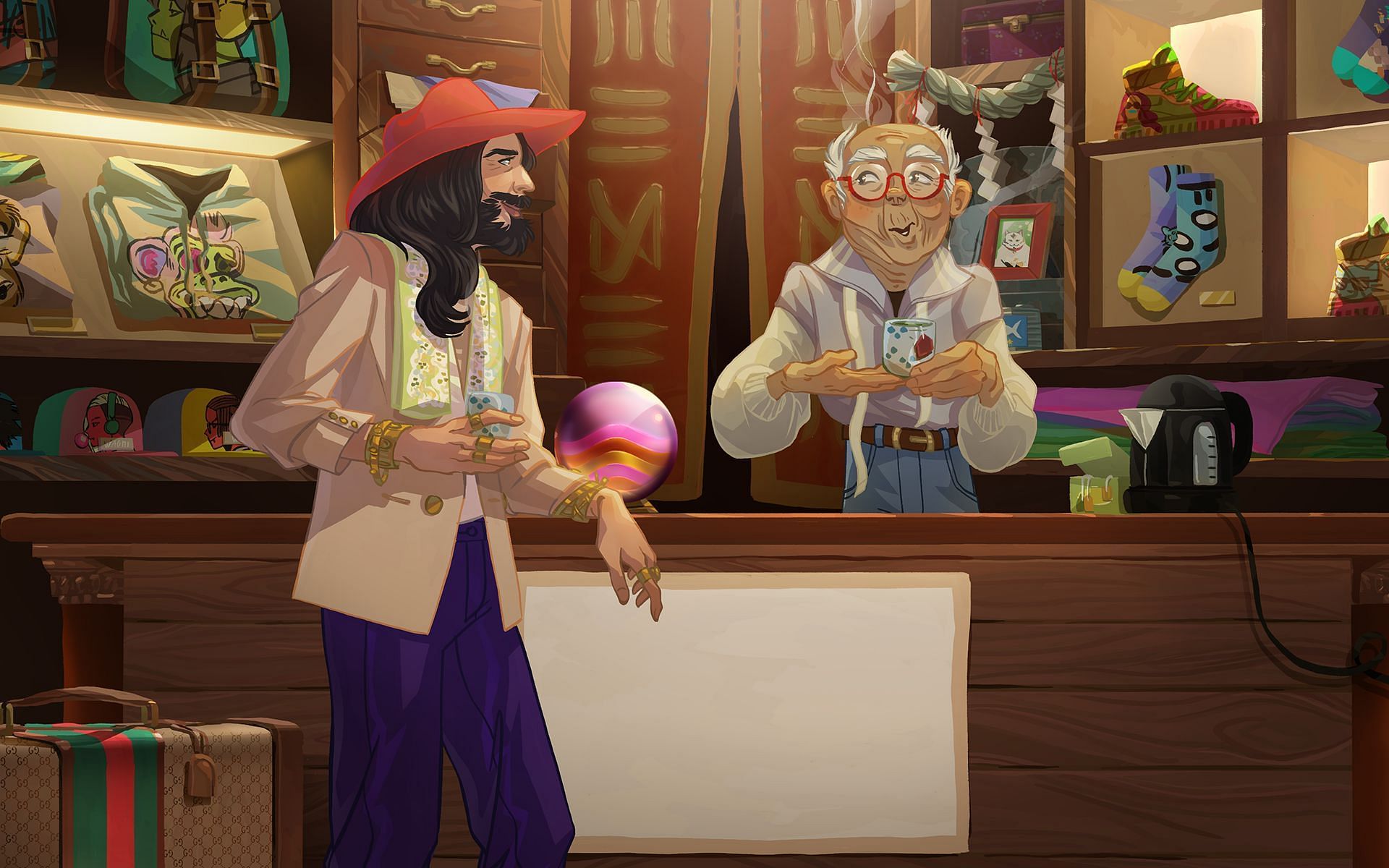 In seeing the path chosen by Gucci with SuperPlastic, it is difficult not to imagine that some sort of physical might be in the works for the 4,253 tokens that were minted, but at the same time, that is quite the collection to release as a potential free-claim. Nonetheless, Alessandro Michele's departure begs further questions when it comes to the lore of 10KTF, such as what's in store for Gucci Cloth, what Gucci's stance on Web3 given its current position, and, lastly, will we ever learn what was in the other envelope? For those unaware, the 10KTF created a mission on Battle Town where the community voted for which Gucci-branded envelope to open by joining one of the two objectives at hand: 1. "(No Subject)", or 2. "Help from a Friend." With all the hopium and excitement at hand, it should be no surprise that the latter was chosen, resulting in the Gucci Cloth being airdropped as a reward to Gucci Grail holders who participated in this mission. As the community chomps at the bit for Season 2 to begin, this is one piece of the story that will have many looking closely at changes to the smart contracts or alpha hidden in plain sight.
In determining the sudden leave, an article by Women's Wear Daily received a statement by an anonymous source that fashion designer was "asked to initiate a strong design shift" to reignite the brand, but Michele did not meet the request. This comes at a time when Gucci's financials continue to underperform, despite overall growth in the luxury sector seen by Kering, the brand's parent company. According to reports, Gucci's organic sales rose by 9% during the third quarter, which was slightly below analysts estimates of 10% on a like for like basis. In comparison, organic sales at LVMH Moët Hennessy Louis Vuitton's key fashion and leather goods division rose 22 percent year-over-year in the third quarter.
Whether this means "farewell" to Gucci as it relates to Web3 or we see further developments does not change how significant and rare these tokens have just become with Michele's resignation. No matter what, all Gucci Grail NFTs will be symbolic of Alessandro Michele's early vision and risk-taking in Web3 brands, and while we wait for a future visit from him in New Tokyo, we will all be ready with open arms for him when his portal ride ends in the Otherside.